Or perhaps, the "better luck next year" edition. Given that today is Halloween, if you're still thinking about how you're going to decorate your house, let's face it: you're screwed.
(unless you have an army of robot zombies or flying monkies at your disposal to do your bidding – in which case, you probably don't need to do anything special to make your house scary for Halloween – but I digress)
So, in the spirit of continual self-improvement, I offer you this meta-site: The Monster Page of Halloween Project Links. Totally non-commercial, this site has an A-Z listing of haunted house-related projects. Poke around, get some ideas, follow some basic safety precautions, and I'm sure you'll have your own scratch-built horrors to share with us next year 😉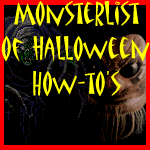 Posted in
Horror
~ You can follow any responses to this entry through the
RSS 2.0
feed. You can
leave a response
, or
trackback
from your own site.